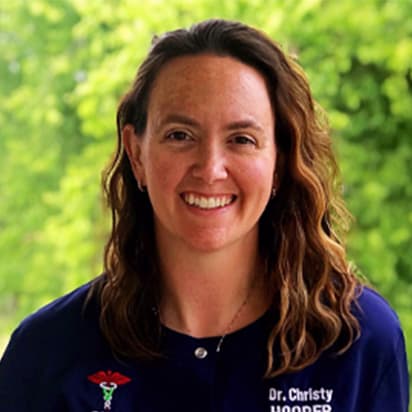 Dr. Christy Hooper
Dr. Hooper grew up on a small farm close to Athens, GA where she was born into a great love for animals. She cannot imagine life without helping animals and her lifelong dream was always to become a veterinarian. 
Dr. Hooper received her associate degree from Abraham Baldwin Agricultural College, her bachelors degree from the University of Georgia and attended vet school at St. George's University, graduating in 2009.
At home, Dr. Hooper enjoys quiet country living with her husband and many pets- including cats, dogs, horses and cows. 
In the clinic, she finds her greatest fulfillment in the moments when recovered pets are reunited with their grateful owners. "My favorite part of being a veterinarian is being able to do something which enhances the quality of life for these four legged children."
Dr. Hooper is the future of Powder Springs Animal Clinic, both as an excellent general practitioner and also as a Certified Canine Rehabilitation Practitioner. 
As Medical Director, her goal is to enhance existing services and standards while also introducing new and improved services as well. "We are here to not only provide the best care possible, but also the best customer service as well."